General

Event in the spotlight: Operational drone services for agri-food at FestILVO.

On September 16th 2022, everyone was welcome to attend the connecting workshop "Drones in agri-food, the future is now" at FestILVO. This networking event was organised by ILVO and project partners VITO and Flanders Make in the framework of the VLAIO Coock project OpsDrone. In total, there were some 71 registrations for the event, with people from more than 10 different sectors.
Participants had the chance to learn about the full value chain of drone services in agri-food or other sectors based on presentations by SESVanderhave, Inflights, Protéalis, Sitemark, PIBO campus, Didex and Droprise.
In between the showers, there was also time for a live demonstration of the spraying drone (DJI Agras T10) that demonstrated "variable spraying" on an ILVO test field of potatoes. This clever piece of innovation also allows crop protection products to be applied in a very targeted way based on task maps, only at locations where it is needed (precision spraying). The plant protection product was replaced by water for the demonstration, so as not to exert unnecessary environmental pressure.
In doing so, the drone followed a flight plan prepared in the DJI terra software. Images from a previous multi-spectral drone flight were used as background maps in the software. The following images were used:
A regular color photo (RGB) was used as a background map when aligning the plot and setting up the flight plan.
A greenness photo (NDVI) indicated areas with much or little vegetation. These could then give an indication about the zones with many or few weeds within the plot.
Based on the latter map, zones can be plotted in the software as polygons where the drone knows how much spray (or water in this case) to apply. Thus, on the demo, it sprayed alternately at 1 and 2 litres per minute (l/mu) on the target zones.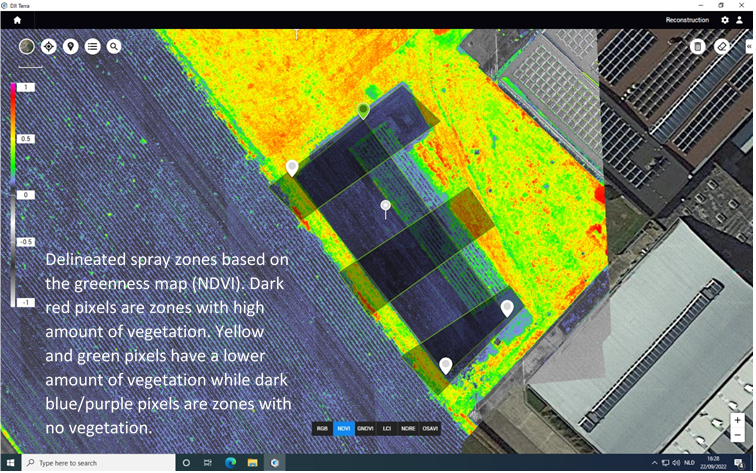 After the demo, plenty of time was provided for visiting the many exhibitors (including Exobotic Technologies, Drone Volt, Belgian Drone Federation, Drone Insurance, Agriflight, Hogeschool Vives) combined with drinks and sandwiches. Participants could test their own pilot skills indoors with Noordzee Drones' toy drones.